The Latin Mass Society of the North Coast, a 501(c)(3) nonprofit association, is a private association of Catholic faithful dedicated to the preservation of the Extraordinary Form of the Roman Rite, using the missal of 1962. The Society consists of lay Catholics (in communion with the Holy See of the Catholic Church) drawn from every age group and walk of life who reside on the North Coast of California. The Society welcomes priests and religious who have great love and affection for this earlier liturgical form and would like to remain faithful to Tradition.
Mass SCHEDULE
Fusce quis egestas sapien. Maecenas ac consequat neque. Donec metus dolor, volutpat id lacinia vel, lacinia et dolor. Maecenas tempor congue euismod. In ac erat tempor, hendrerit dui ut, vulputate dui. Sed sodales tristique vulputate. Suspendisse semper vel ligula id viverra. Sed id dapibus sem. Sed semper dapibus libero sit amet tristique. Vestibulum vitae lorem blandit, malesuada ligula vehicula, tempor diam. Vivamus gravida scelerisque ipsum id suscipit. Nullam efficitur dolor nec mauris congue rhoncus.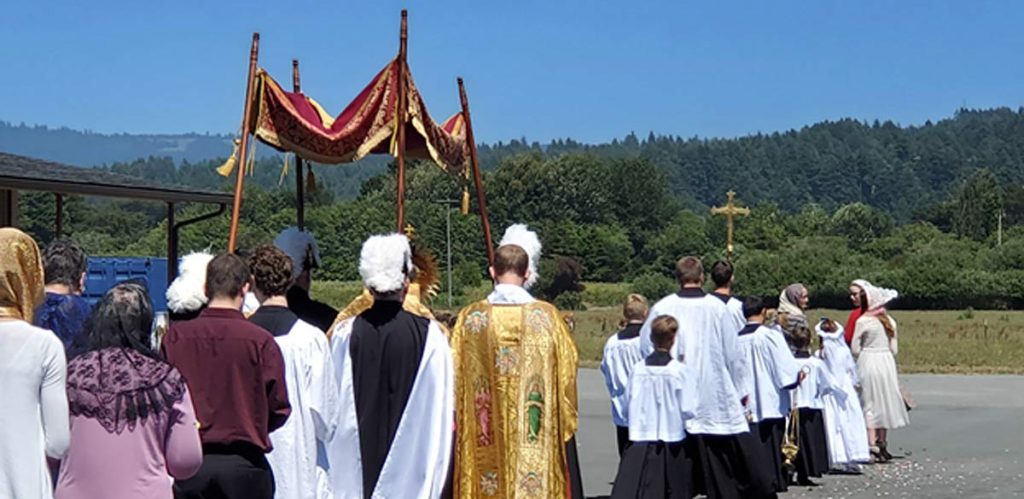 MINISTRIES
Nunc leo arcu, finibus sed cursus et, dapibus imperdiet nulla. Ut id pulvinar lectus. Nulla eleifend sem sit amet nunc elementum, nec efficitur neque rhoncus. Aliquam magna ex, elementum et mauris ut, iaculis imperdiet mi. Donec semper nunc commodo placerat molestie. Aenean lorem quam, feugiat sed vestibulum gravida, ultricies ut arcu. Sed rhoncus tempus nunc.